SO thrilled to FINALLY have the opportunity to take my boys to TORUK: The First Flight in Atlanta… their first Cirque du Soleil performance!
I was equally as excited to "photograph" my VERY FIRST Cirque du Soleil performance held at Infinite Energy Arena in Gwinnett.  Years ago a dear friend introduced me to the show and gifted me with the collection soundtrack and this wonderful production has always been a fascination. The artistry, acrobats and strength of the performers is a sight to see… Thursday night was no disappointment.  🙂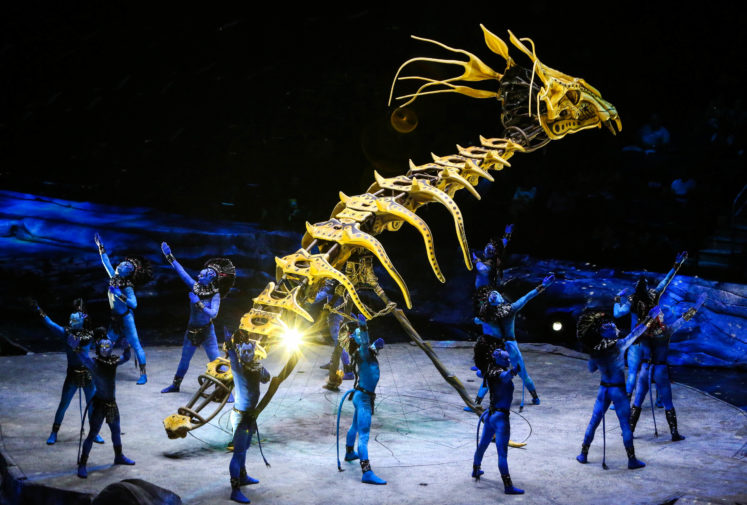 My boys have attended many shows BUT THIS KEPT THEIR FULL ATTENTION!!  I even had to tear them away 5 minutes before the ending to beat the traffic.  Special thanks to Allied for the invite to fulfill my dreams.  Enjoy the pics I snapped during the first half of the show!  🙂
ABOUT TORUK:
The First Flight, inspired by James Cameron's AVATAR, a live experience by Cirque du Soleil®, envisions a world beyond imagination set thousands of years before the events depicted in the film. The word Toruk, in the Na'vi language, refers to the great leonopteryx, the mighty red and orange predator that rules the Pandoran sky. Central in Na'vi lore and culture, this fascinating creature is crucial to the Na'vi clans' sense of destiny and interconnectedness – and is about to be ridden for the very first time by a Na'vi.
TORUK – The First Flight is Cirque du Soleil's 37th production since 1984. The company has brought wonder and delight to more than 155 million spectators in more than 300 cities on six continents. Cirque du Soleil has close to 4,000 employees, including 1,300 performing artists from close to 50 different countries.  For more information about Cirque du Soleil visit www.cirquedusoleil.com