We are so excited to announce…
"
Finding Julia" starring Asian Superstar Ha Phuong
 hits theaters on April 19th!  The
 film is based on a book written by Ha Phuong partly about her life. This psychological thriller is about a woman caught between two cultures co-starring Andrew McCarthy and Richard Chamberlain and directed by Igor Sunara.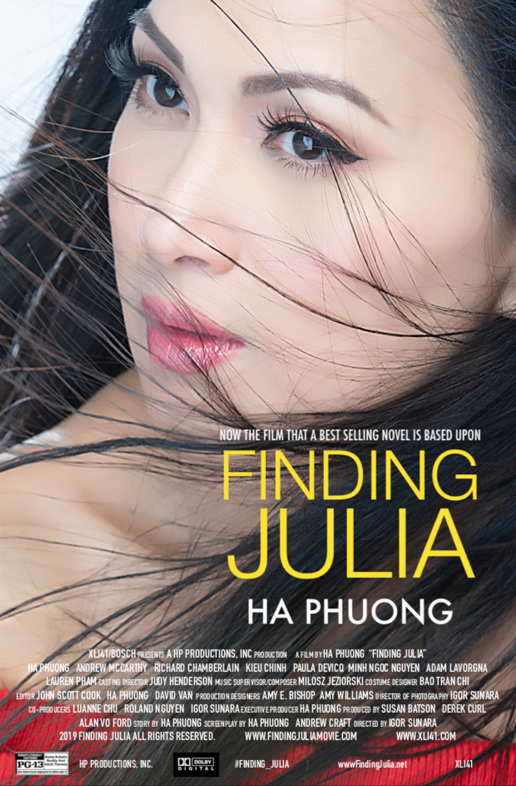 Watch the trailer:
Known as "HP" to her friends, she's an accomplished singer, philanthropist, author and now actress & movie producer.  Ha Phuong began her acting career starring in Vietnamese musicals, "My husband worried for me because re-shooting was so challenging, and he suggested that if I felt making this film was so difficult that I should give it up. Some people said I couldn't do this movie because of my English. But I didn't want to give up. I wanted to prove that I could do it." says Ha Phuong.
HP takes her philanthropy work serious and is a sponsor of The inaugural Faith, Hope & Charity Gala, presented by Catholic Charities of Los Angeles where Tim Robbins will be honored and The Actors' Gang at a gala benefiting the organization's Immigration and Refugee Resettlement Program on Saturday, April 27 at De Luxe Banquet Hall in Burbank, CA.
HP performed and is also releasing the film's theme song/video Lost In A Dream.  Sending a huge CONGRATS to this AMAZING  superstar! 
Take a look at the video!
Be sure to follow her on Facebook & Instagram @HaPhuongArtist