Ok… I'm a huge fan of Daniel Caesar… but his gospel performance at the 2017 #SoulTrainAwards was a little weak.  I've been watching Daniel as he takes the world by storm with his amazing Freudian album and even wrote about my experience at his Freudian tour in LA… but my mouth dropped while watching him perform with Kirk Franklin, LeAndria Johnson, Ledisi and more.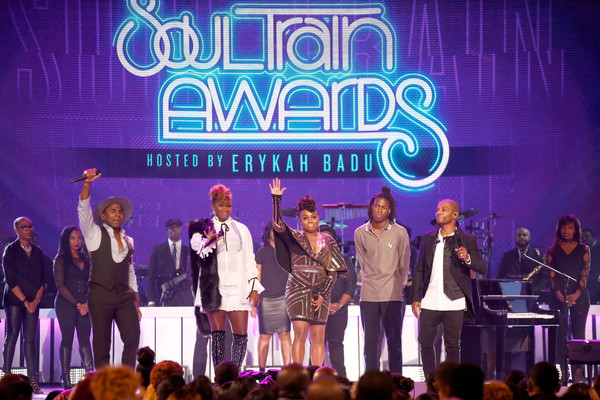 I say this in love… but Daniel was totally out of his league on this round.  Yeah, yeah he seems to be the shy type but he looked totally uncomfortable (even in this photo) and unfortunately… did not deliver what was needed to show the world his love for gospel music.  We the fans know he grew up singing in the church… so what happened?
Theory #1
Daniel's PR /Management team/ Powers That  Be did a great job getting him a spot on the show… but in my humble opinion it was too premature.  Sure, he's gaining tons of followers/fans very fast… but it's not because of his love for gospel.  Let's just say his current journey does not include singing about Jesus.  LOL!  In one of his interviews he clearly stated, "I don't love Jesus and he knows why".  Man, I was dying to get an interview with him to explore that statement.  What happened in his life to make him say such a thing??
Don't get me wrong… he expresses all the time that he wants to go back to his gospel roots… but actions speak louder than words.  He & and his team will definitely have to take more time to actually "show" he's heading in that direction.
This was a "gospel breakout performance" gone wrong. UGHH!  🙁
Theory #2
Did Daniel get star struck or feel intimidated by his co-performers?? I truly believe there's a desire to come back to his roots… AND Kirk Franklin is one of his biggest influences for crying out loud.  Did he lose confidence in his vocals or did he feel guilty about signing on that platform knowing he's not ready? He was singing with the most powerful voices in gospel music… that's a lot of pressure for someone who left the church to sow his royal oats.  I'm not saying he's wrong for exploring what he "thinks" he missed… I just hope he gets it over with & find his way back soon.  The Protocol Son!
Theory #3
Was it just the wrong song? As a singer myself… I know that song choices are EVERYTHING.  Daniel is a smooth crooner (that's what he's presenting thus far)… was it just to upbeat and hype?  I was really nervous for him as he struggled to keep up with the other powerful voices.  I mean come on… you have LeAndria Johnson on the same stage with you… she can deliver ANY song you throw her way! Again, lots of pressure and besides… we've ALL had a bad night.
Theory #4
Was this his best gospel performance? I personally don't think so… but if he wants to reach a new audience like the "Christians"… he will have to settled down, reach into his heart & soul and pull out some fire!!  I'm sure his parents were proud to see him perform. 🙂
Ok, so this was the only Youtube video I could find at the moment.  Tell me what you think.  Hit or Miss?  STILL love you Daniel & wishing you the best… just my humble opinion.