I posted my selfie with Oprah last night and received 100's of "likes" from those who have watched my growth from 2010 to 2016… my FULL CIRCLE journey.  Didn't know I would fulfill my dreams when I received my confirmation letter for the 2016 Essence Festival in New Orleans… but here I am this morning with tears of joy.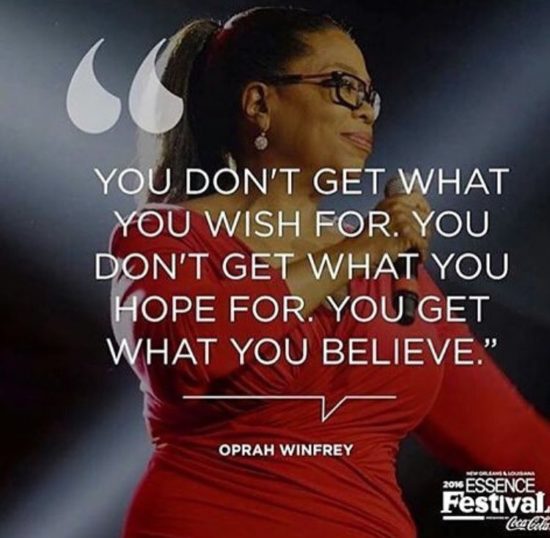 We've ALL heard the sayings, "If you believe, you can achieve… You can do anything, if you believe."  But how many of us really put in the "work" to see it through? I started snapping pics of my little kiddie birthdays, festivals and anywhere I could bring a camera. And the important thing is… I didn't expect anything from anyone. I just focused on creating a library/portfolio of great images.
And then it began to happen… starting with the 2011 "O 'You" Convention with Oprah –  I attended this event with my twin sister & best friend as one of the first to register and to my surprise… they allowed attendees to bring cameras! I was extremely excited but didn't know what to expect or what types of pics I would be able to capture. I'm aggressive by nature and not afraid to ask or shoot for what I want… so I placed myself with the media team while Oprah's "All Star Team" was giving interviews. In my mind I became part of the media and was even pulled in places behind the scene by a publicist!  The conference was about living your dreams and boy was I doing just that!  It was in THAT moment… it came to me that I could do ANYTHING I believed.   So I continued to work hard, doing the tedious and small things others wouldn't do…. pretty much working 2 solid years without getting paid.  But to me… I was rewarded with EXPOSER.
And then there was the Life You Want Tour – Atlanta in 2014.  Didn't get the money shot (photographers dream picture) nor did I meet Oprah but was truly enlightened & empowered to continue my journey.  I believed my time was coming because by this time… I created a pretty good library and relationship with local & national PR firms.  Invites to various events started to flood my inbox and I was tickled pink.   Living my dreams was becoming day to day reality for me with 2 beautiful boys, a wonderful husband and a career that I loved.
My 2 ultimate "dream" goals included photographing President Obama while in office and meeting Oprah.  I accomplished my first last year in Selma AL as our President visited the Edmond Pettus Bridge  for the 50th Anniversary of Bloody Sunday.
I accomplished my 2nd here in New Orleans as Oprah attended the 2016 Essence Festival for the first time in history! Man oh man… she set the house on fire with words of encouragement.  Stay tuned for my post.
After the session I was thrilled to attend a VIP reception with Oprah Winfrey and Director Ava DuVernay as they celebrated their NEW film "Queen Sugar" coming your way on OWN in September.  I'm in tears today because I've come FULL CIRCLE… standing in the presence of this phenomenal woman.  THIS was a reflection of ME and ultimately… a reflection of my heavenly father and his good works.
Here's my wonderful photo of the day!  I didn't get a chance to say a whole lot as she was in HIGH demand.  But there WILL be a next time.  Thanks so much Oprah for your kindness and making dreams come true!
Also sending a very special thanks to the entire OWN team and 135th Street Agency!